"Come out and PLAY!"
PATIENT BUNNY
ROW BY ROW 2015!
IN STORE ONLY UNTIL NOVEMBER 1st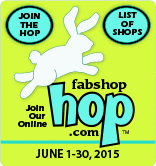 June Hint:
Bunny, Bunny, Bunny BUNTH
That cute little Bunny is checking out the Blocks of the Month!
July Hint:
Oh, little Bunny, soft and sweet

,
We would love it if you'd join us at our fall retreat!